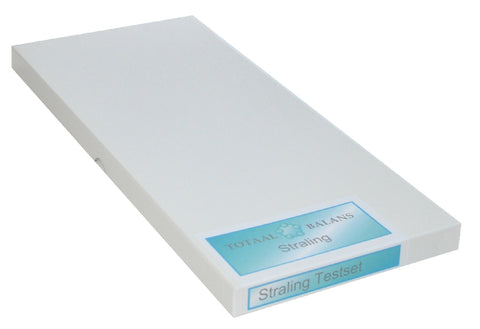 Radiation testkit
Geopathic taxes and electromagnetic disturbances
1. GENERAL GEOPATHIC TAX. WATER VEIN
2. NO GEOPATHIC TAX. (shake once in a while)
3. LEFTTURNING DRAINING ENERGYFIELD
4. RICHTTURNING CONSTRUCTIVE ENERGYFIELD
5. GLOBAL NETWERK, HARTMANN-LINES
6. DIAGONAL NETWERK; CURRY-NETWORK
7. NETWERK CROSSINGS
8. ELECTROMAGNETIC ENERGYFIELD
9. RADIOACTIVE RADIATION ( low potency)
10. RADIOACTIVE RADIATION ( high potency)
11. METABOLIC TAX THROUGH GEOPATHIC OR ELECECTROMAGNETIC FIELD ( low potency)
12. METABOLIC TAX THROUGH GEOPATHIC OR ELECECTROMAGNETIC FIELD ( middle potency)
13. METABOLIC TAX THROUGH GEOPATHIC OR ELECECTROMAGNETIC FIELD ( high potency)
14. ELECTROSTATIC CHARGING
15. 50 HZ POWERFLOW, OZONTAX
16. 50-500 MHZ ULTRA-SHORT WAVE TRANSMITTER
17. 500-5000 MHZ ANALOG TELEVISION TRANSMITTER
18. 6-12 GHZ TRANSMITTER AND ANALOG SATELLITE
19. 14-19 GHZ DIGITAL SATELLITE TRANSMITTER
20. 0.5-5 GHZ DIGITAL MOBILOPHONY, GSM
21. COMPUTER MONITOR/VDU EMISSIONS
22. ELECTRICITY
23. ELECTRICITY HIGH VOLTAGE
24. ELF / EXTREME LOW (RADIATION) FREQUENTIES
25. FLUORESCENT LIGHT EMISSIONS
26. MICROWAVE RADIATION 750 MHZ
27. MOBILE PHONE 900 MHZ
28. MOBILE PHONE 1200 MHZ
29. MOBILE PHONE 1800 MHZ
30. MOBILE PHONE MAST 3G EMISSIONS
31. SATELLITE, TV AND RADIO WAVES
32. TETRA MAST RADIATION
33. TELEVISION EMISSIONS
34. X-RAYS D30
35. GAMMA RAYS D30
36. BROADBAND RADIATION
37. CORDLESS (DECT) TELEPHONE RADIATION
38. HALOGEN LIGHT
39. LASER BEAM (2940 NM)
40. LED LIGHT (WHITE)
41. ULTRA VIOLET LIGHT
42. ULTRASONIC SOUND (IN GENERAL)
43. WIFI RADIATION
44. VISIBLE LIGHT SPECTRUM
51. ROCKCRYSTAL
52. CHROME DIOPSITE
53. SHUNGITE
54. OBSIDIAN
55. TOERMALINE
56. SILICEA D6
57. SILICEA D12
58. SILICEA D30
59. SILICEA K30
60. SILICEA K200
61. SILICEA MK
The lower potencies indicate superficial, short-term influences.
Such as by irradiating food, which occurs regularly, to vegetables
for example to give them a longer shelf life.
The middle and higher potencies indicate deeper influences, where the
higher potencies, show the deepest influence.
These then have a long-term influence on the system.
The severity and the influences of radiation can thus be measured.
Especially important when measuring via a device.
The more serious form of radioactive load can be undergone by direct
radioactivity, such as by nuclear power stations, even if one lives in vicinity
of such a station. But also by consuming some
mushrooms or honey from heather, which have radioactive parts included.
---
We Also Recommend